A very well played devilment in the blocks of flats from hell. Her the humans absolute worse sides compete about the attention.

The piece is maximalistic in the way of acting, stage design, and sound, and as audience it makes it impossible to stay indifferent to the devilment that takes place on stage.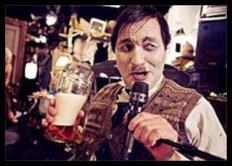 Svært velspilt jævelskap i leiegården fra helvete. Her konkurrerer menneskets absolutt verste sider om oppmerksomheten. Stykket er maksimalistisk i spillestil, scenografi og lyd, og som publikummer blir det dermed umulig å forholde seg likegyldig til djevelskapen som utspiller seg på scenen. Karakterene i Werner Schwabs univers pisser i sterk motvind og strever med alle odds mot seg. I Kjersti Horns regi ble Folkeutrydning en ambivalent teateropplevelse som varer.


Bergenprisen 2008: De nominerade til årets scenekunst.
24. februari 2009
Dag og Natt

"Folkeutrydning- eller leveren min er meningsløs" av Werner Schwab
Director: Kjersti Horn.
Den Nationale Scene, Norway